New 300 Mile Range Photo Frame TV Antenna Digital HD Skywire 4K Antena HDTV 1080P High Quality Fashion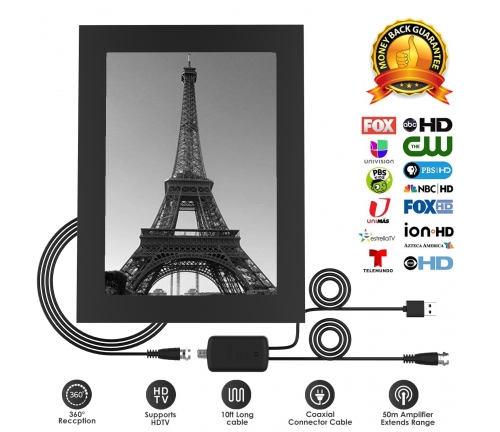 Product Name:
New 300 Mile Range Photo Frame TV Antenna Digital HD Skywire 4K Antena HDTV 1080P High Quality Fashion
Model:
Antenna 003
brief:
HDTV Antenna,
Upgraded 100+ Miles Range
Amplifier 1080P 4K
Indoor Digital HD TV Antenna
Enquiry:

HDTV Antenna, Upgraded 100+ Miles Range Amplifier 1080P 4K Indoor Digital HD TV Antenna with 16ft Coax Cable
Free Channels for Life!
The 1080p HDTV reception ensures that you always have the highest quality content. Depending on your location, the hdtv antenna can receive include NBC, FOX, CBS, ABC, PBS, THE CW, QUBO, TELEMUNDO, UNIVISION, RTV, THIS TV, ION, ME TV and the weather channel.
Fast and easy to set up
1. Connect tv antenna to "CABLE/ANT IN" on the back of any HDTV(Just power up the amplifier and hook up the antenna to the TV).
2. Place the tv antenna in an optimal position, usually on a wall or window.
3. Scan for channels using your TV's Channel Search' and be ready to enjoy free TV.
If your TV antenna is not working as expected, try the following tips:
1) Check to make sure you have correctly connected the hd antenna to your HDTV or third-party HD receiver.
2) Re-scan for channels: In the TV's setup menu, set the mode to hdtv antenna or air. Refer to the TV manual for detailed instructions.
3) Reposition the indoor hd antenna in a different location. It is suggested place it higher on a wall or closer to a window for a better signal. Sometimes moving a few feet can make a difference.
4) keep the hdtv antenna away from those big power consumption devices interference, such as air conditioner, refrigerator,hair dryer and microwave oven, etc.
5) You can remove the detachable antenna amplifier if your house is within the 20-mile range from the tower.
6) If a signal cannot be received when using the amplifier, remove the amplifier and try again. In some instances the amplifier may cause self-oscillation, which may interfere with signal reception.
7) The amplifier needs to be connected to the TV's USB interface for normal use. If the TV does not have USB interface, you need to
purchase a power adapter.
- FREE CHANEL AOJOYS HDTV antenna will save you from paying for another cable subscription again.You can figure out where the broadcast transmitters are in the area( you can do that with an app from google app store) just point TV antenna in that direction and you'll get all the available local channels for your area.
- 300 MILES RANGEThe Upgraded amplifier touts a 300 miles range TV station from broadcast. Working frequency: VHF 47- 240MHz, UHF 470-862MHz. Channel reception may vary depending on what's broadcasting in your area, distance from broadcast towers, terrain and the surroundings. Before you buy, Check what available channels are in your area by using these websites:"antennaweb.org" or 360OMNI-DIRECTIONAL RECEPTION Enhanced silver paste pulls full HD channels from all direction.Reception is dramatically better with this one, and the Photo Frame Antenna is very thin and light, You can put it on the table. Or you can attach it to a wall or window with adhesive tape.
- CRISTAL CLEAR PICTURE You can get all available stations in your area with far less pixelation than the other digital antennas since strong reception.Enjoy crystal clear HDTV shows, 720p, 1080i, 1080p,4K.
- Antenna's cord is long enough for you to find the right spot in your home for no in and out, static, or white noise. Especially for customers whose televisions are quite far away from windows.
In The Box:
TV Antenna x 1
Amplifier x 1